The J Chute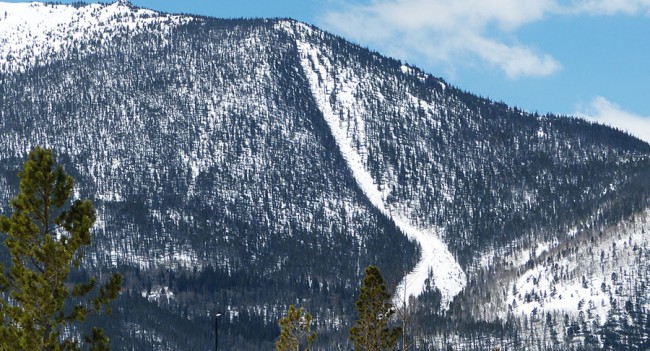 This avalanche chute has a pitch in the lower 40s. It slid big in early spring 2014 and numerous times in the past. Masontown was destroyed by a series of avalanches here. If you triggered a slide you would be caught in a bad terrain trap and swept through trees. The skier's right side in the small trees has more consistent snow because it's more sheltered from the sun but it still shouldn't be considered safe. The slide usually triggers from the skier's left side of the chute where it's more open.
Maps
*All Mapped Areas are Approximations
Trailheads
Also known as the Rainbow Lake Trailhead, Zach's Stop is a small parking lot on the other side of the bike path.
Images
Guide Books
Making Turns in The Tenmile-Mosquito Range by Fritz Sperry
Backcountry Ski & Snowboard Routes: Colorado by Brittany & Frank Konsella
(Links to guidebooks may be affiliate links)
Videos
All videos are Copyright their respective owners. These are 3rd party videos hosted on YouTube or Vimeo and we make no guarantees as to their accuracy or relevance.
Find Nearby Zones
*All Mapped Areas are Approximations