Uneva Peak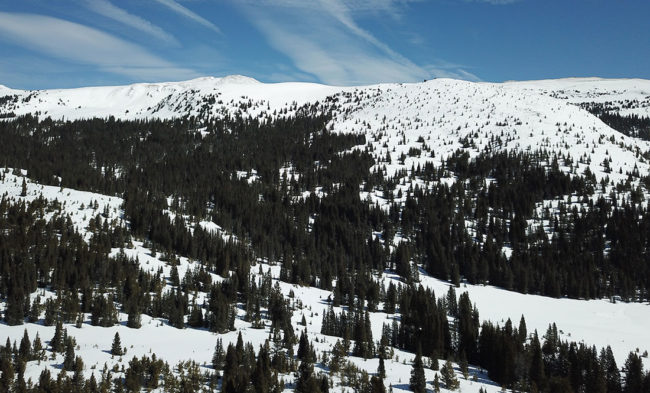 Uneva Peak can be accessed from Vail Pass and offers a number of skiable areas. Also known as The Claw, Uneva's Southwest face is steep and prone to avalanche. It shouldn't be skied on days where slide risk is present. Its Southwest angle also gives it a lot of exposure to the sun. Uneva's South Bowl, sometimes known as 100 Turns of Fun, is reasonably low angled and for the most part has good spacing in the trees. It's steep enough to post avalanche danger but it's the least threatened of the choices on Uneva. Past that to the South, the South Ridge has mellow trees and meadows that face Southwest. Uneva's East Face is steep and dangerous, with an array of choices heading South down the ridge and a hike back up to exit.
Maps
*All Mapped Areas are Approximations
Trailheads
There is a parking fee at Vail Pass
Images
Guide Books
Classic Colorado Ski Descents by Jon Kedrowski
Backcountry Ski & Snowboard Routes: Colorado by Brittany & Frank Konsella
Making Turns in Colorado Vol 1: The North by Fritz Sperry
(Links to guidebooks may be affiliate links)
Videos
All videos are Copyright their respective owners. These are 3rd party videos hosted on YouTube or Vimeo and we make no guarantees as to their accuracy or relevance.
Find Nearby Zones
*All Mapped Areas are Approximations